residential maintenance
Your Guide Towards A Greener Landscape.
What Is Available In A Residential Maintenance Agreement?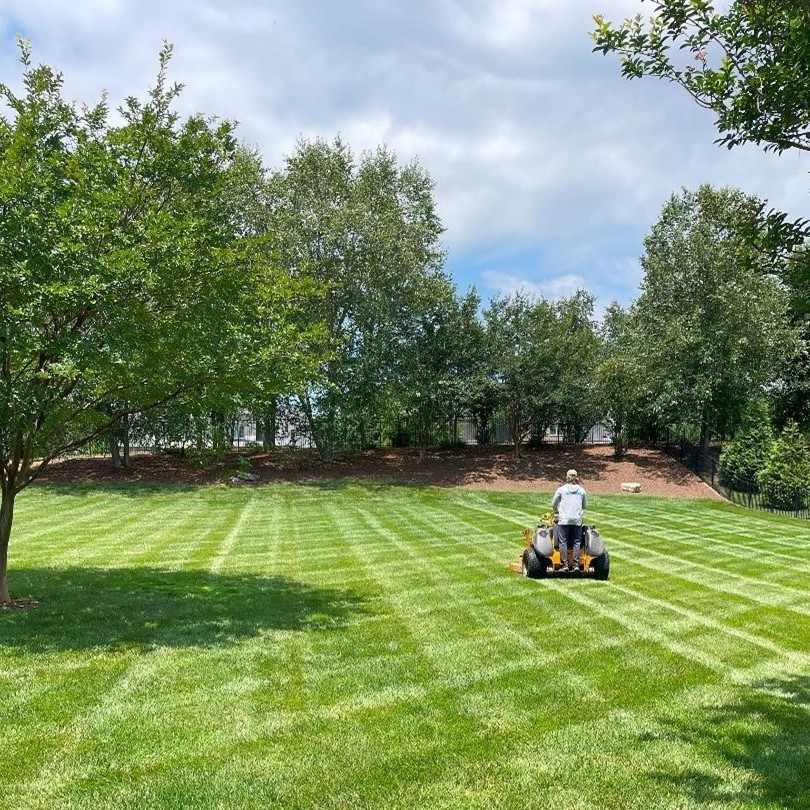 At Covenant Works LLC, our Lawn Maintenance is designed to keep your lawn looking impeccable all year round. We take care of everything, from mowing and edging to trimming and blowing off debris. During the growing season, we provide weekly maintenance to ensure your turf stays healthy and vibrant. Even during the winter months, we are here to address any needs your lawn may have. Our team will meticulously control weeds in beds, sidewalks, and driveways using a combination of hand pulling and effective post-emergent herbicide. As the seasons change, we adapt our services accordingly. In the Fall and Winter months, leaves will be gently blown into the beds and natural areas during our weekly service. If you require leaf removal throughout this season, we can happily assist you. Trust Covenant Works LLC to provide top-notch Lawn Maintenance that will leave your lawn looking flawless.
What's Included in a Quick Glance?
Lawn Mowing
Trimming
Edging
Blowing Off
Effective Weed Control in Planting Beds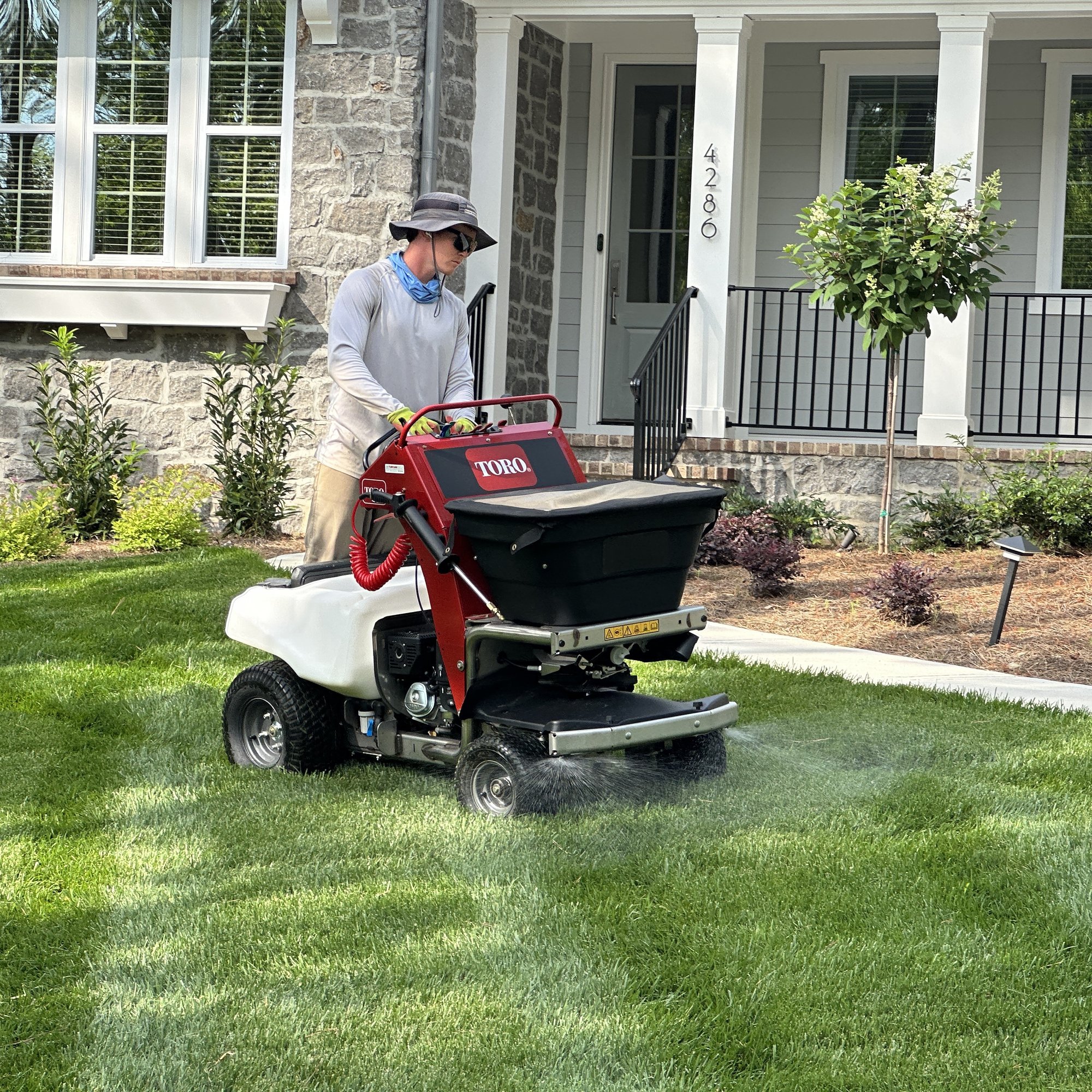 Our expert team offers year-round turf applications for Bermuda, Fescue, and Zoysia grass, effectively maintaining a weed-free and healthy turf for you. We hold licenses to apply these specialized treatments in both North Carolina and South Carolina. Discover below the specific applications for each grass type and the optimal time of year for their application.
Tall Fescue
Pre Emergent and Fertilizer
Broadleaf Weed Treatment
Pre Emergent and Fertilizer
Preventative Fungicide Application
Broadleaf Weed Treatment
Summer Fertilizer
Broadleaf and Crabgrass Weed Treatment
Winter Fertilizer
Lime Application
Bermuda & Zoysia
Broadleaf Weed Treatment
1st Round Pre Emergent and Fertilizer
2nd Round Pre Emergent and Fertilizer
Broadleaf Weed Treatment
Summer Fertilizer
Summer Fertilizer
Broadleaf and Crabgrass Weed Treatment
Fall Pre Emergent
Due to volatility of Fescue Seed Prices, we do not include Fescue Aeration and Overseeding in our Agreements.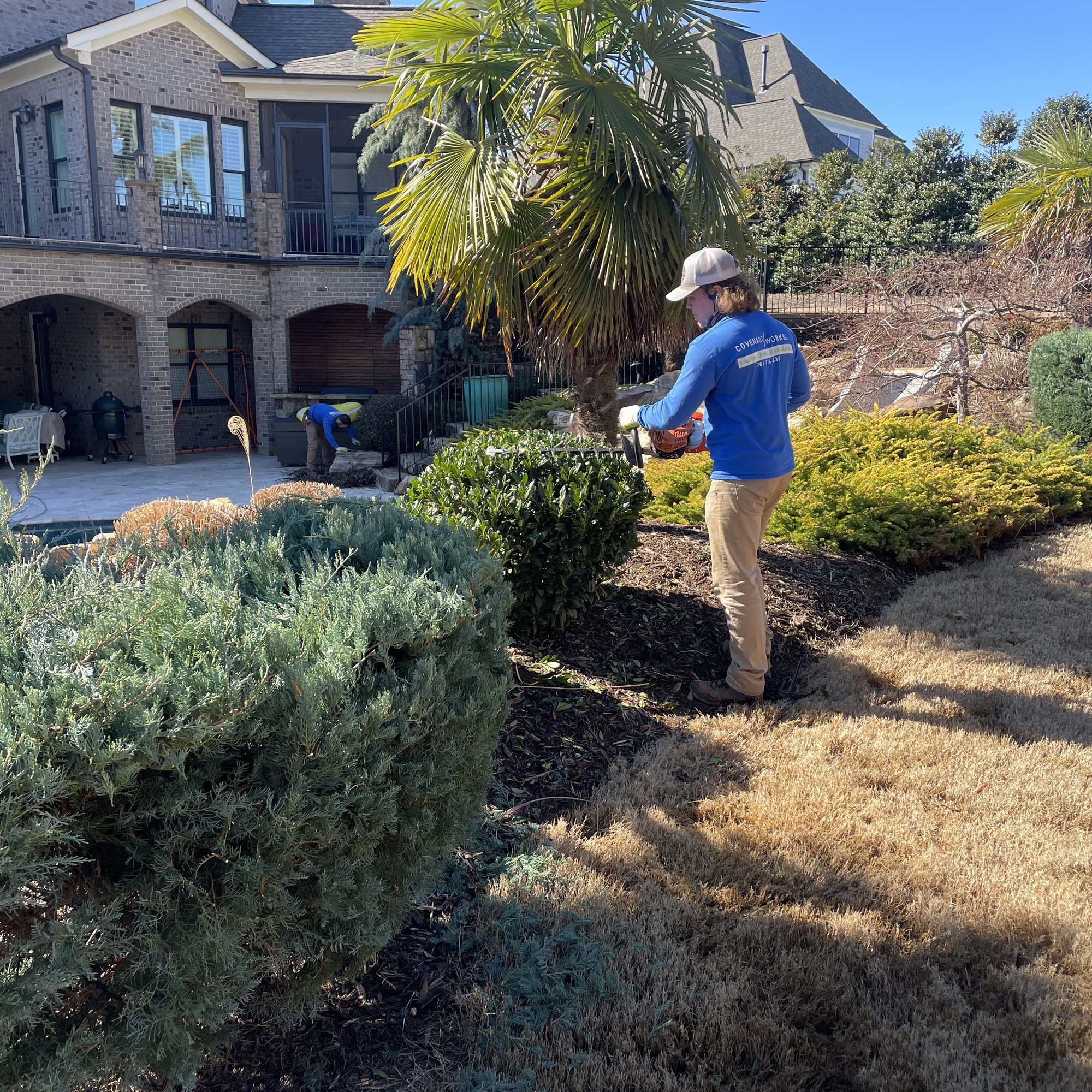 When it comes to trimming bushes during the intense summer months, it is crucial to entrust this delicate task to a professional. Removing too much of the plant can expose it to the scorching summer heat, potentially leading to damage or even its demise. Rest assured, we are here to expertly handle all of your bush trimming needs.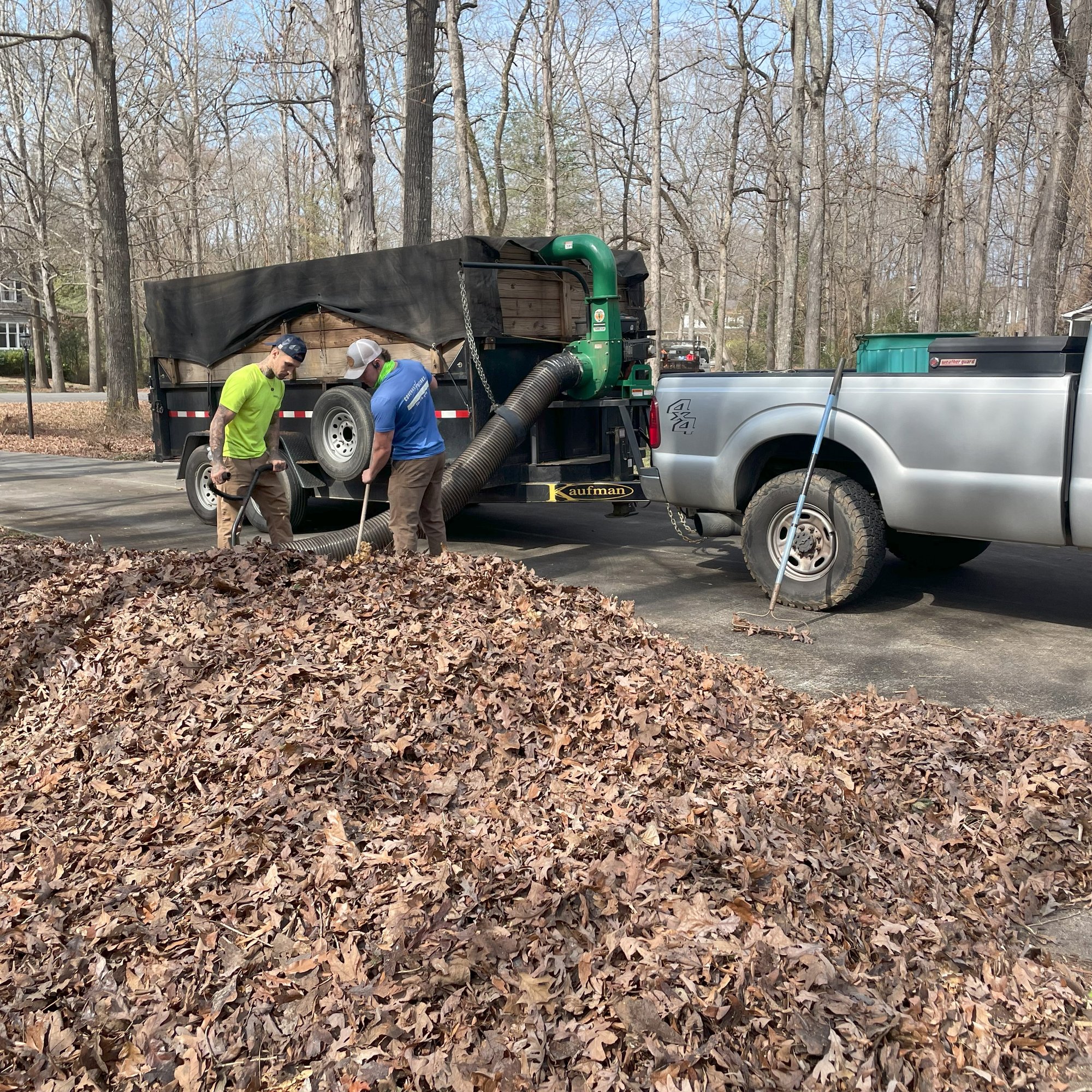 During the fall and winter, leaves will be blown off the turf and into the natural areas and planting beds. Then, throughout the season, we will remove any fallen leaves from this season 4 times. Utilizing our specialized equipment, we suck the leaves up into our trailers and completely remove them from the site.
What Else Can I Do To Improve My Lawn and Landscape?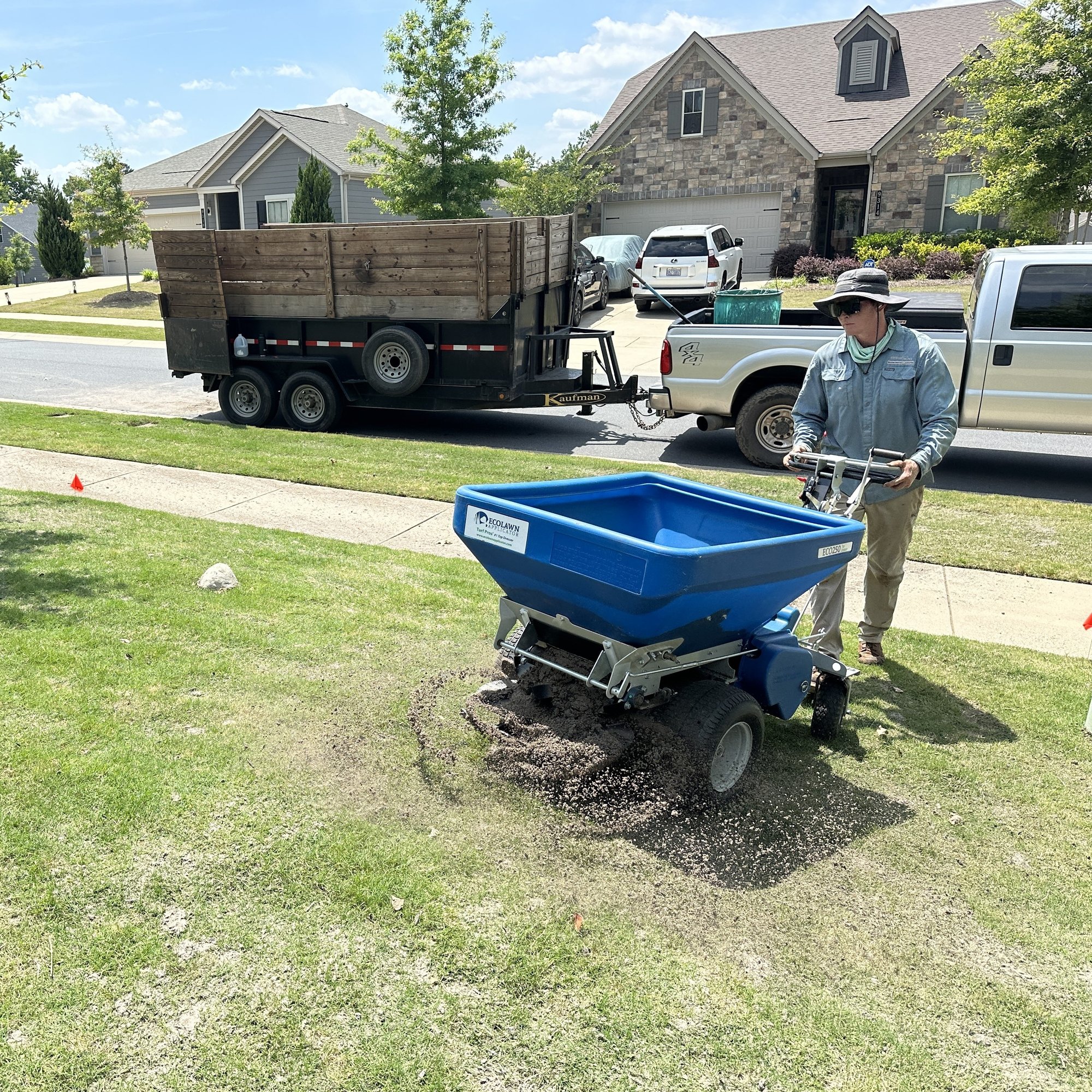 Bermuda Top Dressing
At Covenant Works LLC, we kickstart the rejuvenation process for your turf by meticulously applying a carefully crafted sand and compost mixture, evenly spread across the entire area. Our blend, consisting of 70% sand and 30% compost, is meticulously created using double washed sand that effectively eliminates any clay residues and infused with nutrient-rich compost. Afterward, we employ the innovative technique of Core-Aeration, which allows the much-needed nutrients and oxygen to deeply penetrate the roots, combating any thatch build-up that may be present in your yard. This revitalizing process is typically carried out during the hottest months of the year, ensuring that your Bermuda grass flourishes and thrives after the aeration, providing a stunning and healthy lawn for you to enjoy.
Fescue Aeration and Overseed
ing
Revitalize your fescue turf with our comprehensive approach of Core-Aeration, Overseeding, and Fertilizer Application. This essential process, typically conducted during the fall months, breathes new life into your lawn after a challenging summer and fills in any unsightly bare spots. Say goodbye to thatch build-up as our method allows vital nutrients and refreshing air to deeply nourish the roots, promoting a lush and thriving fescue grass that will leave you in awe.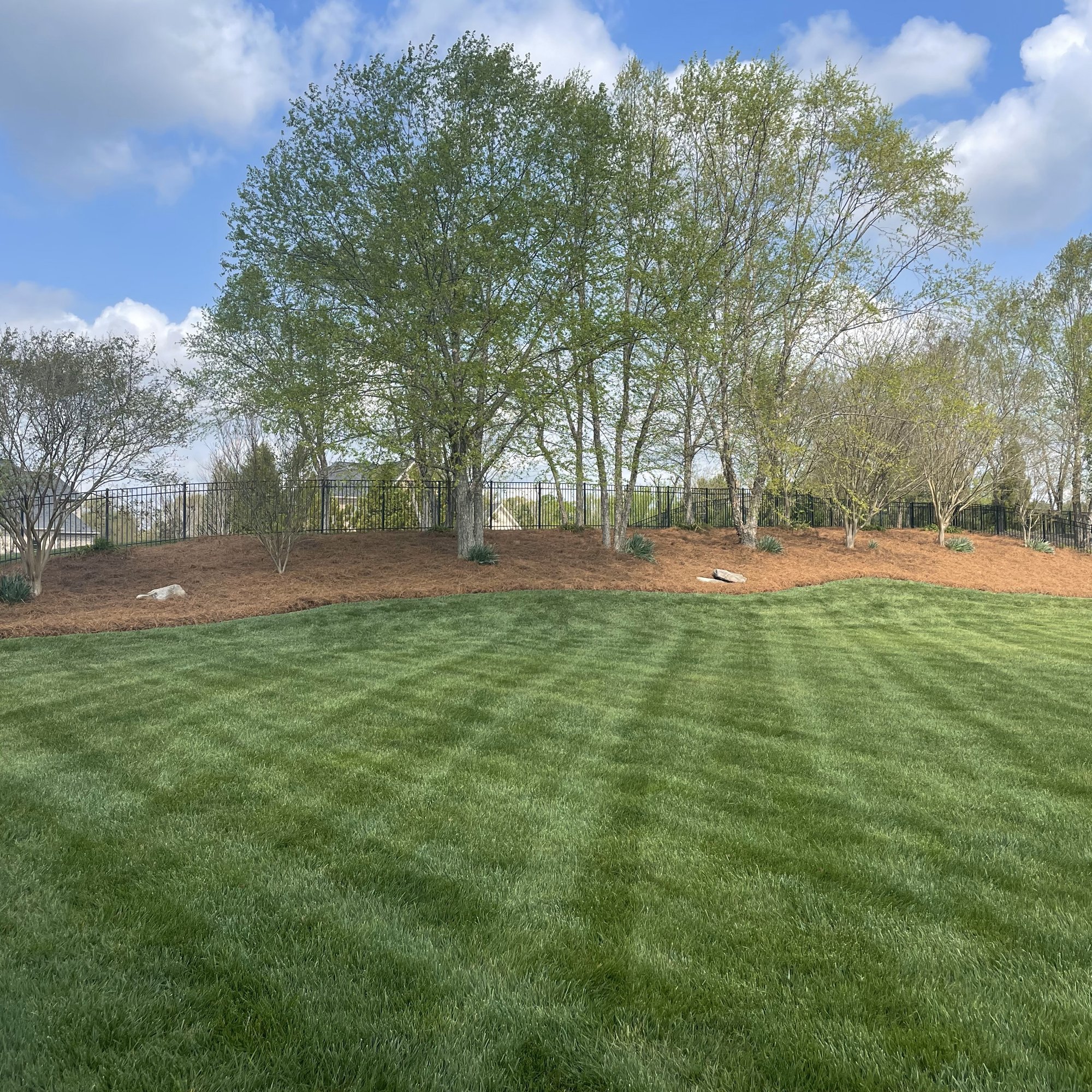 Mulch & Pine Needle Installation
Having mulch and pine needles in your planting beds is crucial for preventing the growth of harmful weeds and maintaining optimal water saturation in the soil for your plants. Without it, your plants may suffer and your irrigation water bill could skyrocket. The addition of a fresh layer of mulch and pine needles boosts the curb appeal of your home or business.
"

I have received six-plus years of excellent, family-owned service. Any concerns have been addressed quickly, patiently and politely

" - AJ
Weddington, North Carolina
Indian Land, South Carolina
Fort Mill, South Carolina
Wesley Chapel, North Carolina
Rock Hill, South Carolina